8 Must-See Innovations From medQ at RSNA 2019
medQ is very excited about our new offerings to be shown at RSNA 2019, Booth 3941.  These innovations are designed to improve imaging operations productivity and efficiency, as well as, create a more holistic and productive reporting environment.
 These modules are now available as an upgrade to current and future Q/ris 3000 Enterprise Imaging Workflow customers. They are:
Business Intelligence Dashboard and Analytics
Provides the capability to have a more data-driven process to improve operations. This dashboard is a complement to medQ's Management Reports module and provides a real-time heads up graphical display of your business analytics.
Integrated Peer Learning Program
An automated methodology to do ACR Peer Review.  This is complemented by a peer learning backend which provides a quality improvement process designed to highlight, discuss and document various cases for group learning.
Reporting PLUS+ updates
Dropdown fields in macros, macro in a macro with multiple fields
Beyond peer review to a peer learning quality improvement program
Customized radiologist's reading lists including automatic workload assignment tools
Enhanced residents' workflow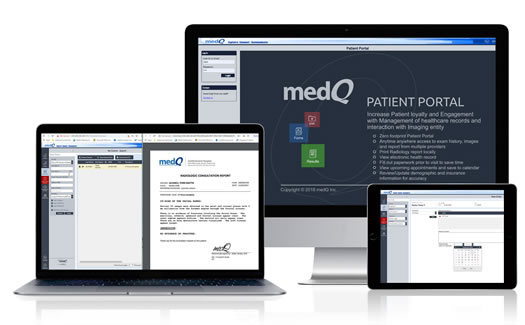 Physician and Patient Portals
Online access to Referring Physician specific Management Reports
Includes launching the CDS worksheet
Improved physician notification of critical test results
Upload required forms online
Patient Portal provides remote access to download and print forms required for visit
 Integrated CDS
Working with LogicNets, medQ has developed and integrated a complete AUC solution into their direct order entry and ordering physician protocols. These protocols are embedded in their Q/ris 3000 enterprise imaging software and physician's web portal.  This integration automates the decision process and makes it easy for physicians to use the new feature either online or via the imaging center.
Fully integrated and automated Critical Test Reporting module
Allows real-time notification to ordering physicians of critical findings, including; via our Physician's Portal.  The 360 degree program also ensures the ordering physician is notified of the finding.  New CTRM management reports track notifications, total CTR alerts, and turnaround times based on your criteria.
A new fully integrated MIPS reporting program
Managed by medQ and our business partner, Mingle Analytics.  If you would like to improve your Medicare payment percentage, this is the easy way to manage.
DICOM Structured Reporting
Collect automatically all the structured data from your devices, e.g., CT, Ultrasound, DEXA, and import these data directly into your radiologist's macro.  Reduces time, manual data entry and speeds up turnaround time.  Includes dose collection and tracking.
medQ will be at RSNA South Hall Booth #3941.  If you'd like to schedule a time to drop by, we'd love to discuss these new offerings with you and how they would fit into your operations.
Schedule a live demonstration