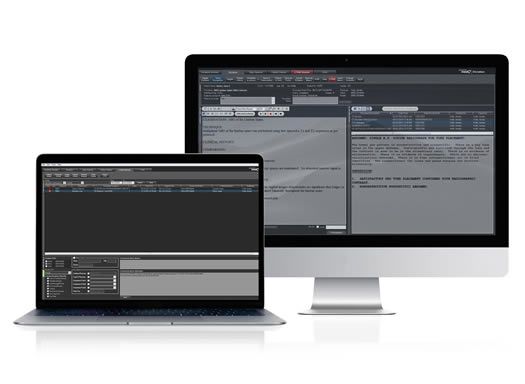 Manage and configure multiple workflows (such as a resident workflow) that roam with the radiologists no matter which workstation they decide to use. The Q/ris Reporting PLUS+ module launches the next image from the appropriate PACS viewer automatically with 100% patient accuracy.
Structured report templates come in PRE-filled with the information recorded by the technologist, allowing the Radiologist to start dictating immediately. No matter where the mouse is, the dictation window is always active allowing the radiologist to dictate without interruption.
Peer Review and Peer Learning
Hone expertise in a constructive and positive way without interrupting the Reporting Workflow with our seamlessly integrated Peer Learning Program. The automation of the peer learning front end allows the automatic selection of reviewer and reviewee workload requirements. Radiologists can also easily identify relevant priors and select exams to review on the fly.

Elevate your peer review program with protocols to create a "Learning Database" full of interesting cases for team review.
What our Customers Are Saying
By utilizing the medQ Dictation with real time Voice Recognition, fully integrated as part of my PACS, I am able to automatically open and complete studies faster and more efficiently. This improves my turnaround time and leads to greater satisfaction of my referring physicians. North Texas Imaging has grown over 20% in the last two years, and through using this voice recognition-based program we have not only kept up with the growth but have actually reduced administrative staff.
With Q/ris Reporting PLUS+, our report turnaround time went from a day or two to 5 minutes...you cannot beat that turnaround time!
Read and Dictate Anywhere, at Any Time
Make your work come to you. Access Q/ris Reporting PLUS+ on site or through a secure remote connection.
Create and Track Critical Test Results
Efficient and consistent with JAHCO requirements, the Q/ris Critical Test Result Management Solution is engineered to be seamless and effective in real time.
Radiologist has a heads up display to allow him/her to process CTR notifications.
Follow up work lists are automatically generated to ensure positive, closed-loop communications.
Critical Test Results are automatically filed in the patient's history and radiology report
Referring physician is notified immediately speeding the initiation of treatment protocol.
Radiologist & Technologist Synergy
Better data yields better reads and better reports. Radiologists receive structured DICOM reports in the image series, as well as the technologist's e-worksheets, procedural notes, and dosage information—all the relevant information the Radiologist needs to complete their report. If the reading Radiologist needs more information, they can simply send the study back to the technologist using the "Return to Tech" button on their dashboard.